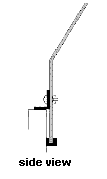 *

1/4" virtually unbreakable tinted gray polycarbonate adds a sleek look to your boat and can withstand trailering.

* Whitecap uses die-cut Santoprene thermoplastic rubber; the best rubber available. Santoprene remains flexible in cold weather, has excellent ozone resistance, outstanding durability and flexibility. Santoprene is used in products such as windshield wiper blades.


*Aluminum rivets, along with a solid backing plate, holds the rubber firmly in place.

*Whitecap splashguards remove quickly. Simply remove wingnuts and lift guard out of slots. Slotted and aluminum angle brackets are permanently mounted to boat with stainless steel screws.

*Heavy duty slotted brackets are made out of 3/4" HDPE plastic. Slots are machined 3/4" deep.

*More than a 1/4" between transom and guard allows clearance for transducer cords, bolt and rivet heads. Guards angle out at 7 degrees for boats with extruding gunnel end caps.

*Guards are also available to accommodate Minn-Kota's Vantage troll motor.

* 3 year warranty.